A Day on the Yakima River
Washington's Peculiar Pet Trout Stream
by Skip Morris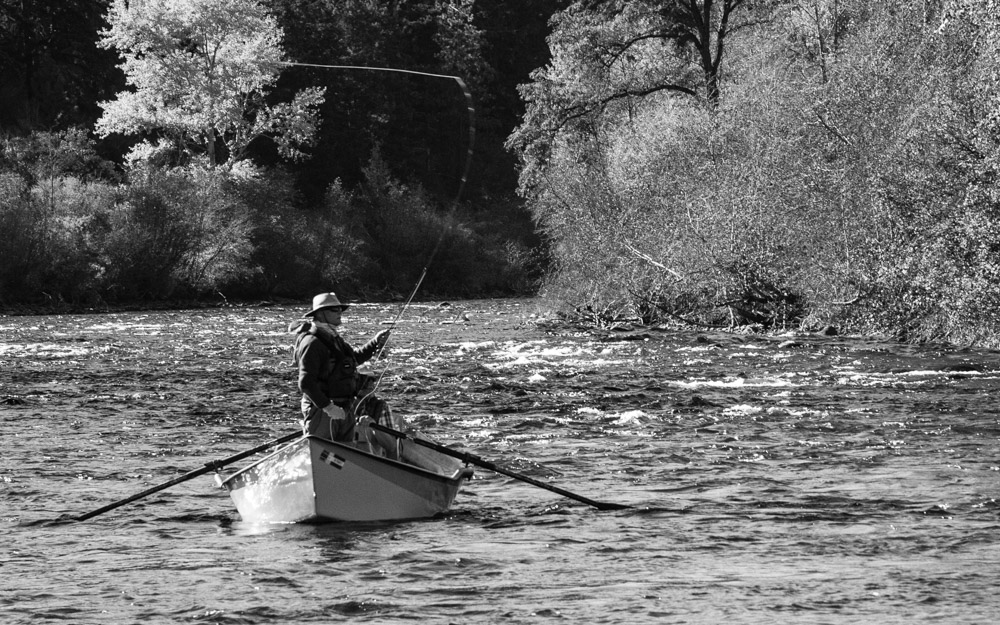 Washington State is laced with rivers, streams, and creeks of all sorts, yet only a handful of them would qualify as what most fly fishers call a "trout stream." A true trout stream grows trout of respectable size, feeds them (and fires them up) with ample insect hatches, and the fish make a real home there—not running out to salt water to feed and grow and then returning only to use the now unfamiliar river as a convenient love nest the way sea-run cutthroat trout, steelhead, and Pacific salmon do. That's not to belittle these ocean-going fishes—they fully deserve the adoration of their followers—I'm just saying that the whole bug-hatch/match-the-hatch/persnickety trout phenomena so beloved on real trout streams is lost on these nomads.
We have our lakes in Washington, cluster after cluster of them, where trout do feed on hatching insects and often do turn persnickety. Our lakes are grand—as challenging and rewarding as trout streams in my opinion. But if you yearn for a trout stream, well, only a trout stream will do.
And for the trout-stream aficionado, we have the Yakima.
The Yakima River may not be Washington's only true trout stream, but it's the main one here, and the nearest to all those fly fishers whose homes crowd together around Interstate-5 in Seattle, Tacoma, Bellevue, and a long list of other smaller cities and towns. Consequently, you'd expect the Yakima to get mobbed all season, but often, it's not. That's because it's a large river—too large to wade across except at its lowest levels, impossible to wade across when the dam release is generous—and because it's long: from its top, where it emerges from the Keechelus dam to the lower end of the real trout water around Rosa Dam are (according to my fishing-guide-books and some web-sites) around 70 to 80 miles of river.
And its dams—for Keechelus, Kachess, and Cle-Elum Lakes (and little Lake Easton)—make the Yakima like so many other modern trout rivers: a tail-water. Crazy things can go on with tail-waters because their levels are determined not by snowmelt and rain and cold and heat but by a guy in a control booth.     
The Yakima's flows are particularly unnatural: in spring, when undammed rivers may be swollen, it's usually in good shape; in summer, when undammed rivers are settling into modest levels, it's surging high; and in fall, when undammed rivers are way down, it drops suddenly to match them, the only time during the normal trout season it sort of follows Nature's plan.     
Two summers ago, Carol and I and a friend spent an afternoon drifting the Yakima with Guy Drew, owner of the Crow Creek Fly Shop in the little town of Roslyn, on the eastern slope of the Cascade Mountains, and his head guide Aron Larsen.
Because it was summer, the Yak was bulging with water. Clear water—that's what you normally get on the upper river: pure mountain water. The lower river gets overflow irrigation water and typically carries a little color, though that doesn't seem to hurt the fishing.
Gliding down the Yak to fish a dry fly in summer, at least in my experience, is a matter of dropping your fly close along the edges with a slack-line cast, a mend or two, or both, as you and it drift along at nearly a matching pace. So with a little skill in line control, fly drifts can be long indeed. Of course you could be casting a nymph and a strike indicator. It all depends on what the trout prefer that day, that moment.
I'm ever improving at the one-shot casts required of drift fishing, which means I can at last thump my chest and proclaim myself a genuinely average drift-boat fisherman. That fact is truly proclamation-worthy: I used to stink at it. My natural way of fishing a trout stream is on foot, a plodding way, working things out in steps, trying to read the twists of current and contours of the river bed as I experiment with my presentation until it's finally as I decide it should be. That is, I'm slow. But when the riverboat guide shouts, "River right, along those branches," there's no time for plodding—you get your fly out there immediately, before that spot passes by—or you don't, and it does.
If you're going to drift a trout river you couldn't ask for a better man at the oars or talking you into fish than Guy and Aron. They're patient, respectful, know when to help and when to stay silent, and are nearly always right about this river they love and know so well. When they tell you there's probably a fish ready to jump your dry fly behind that rock, then that's exactly right: there probably is. They could likely give you the odds on hooking a fish at every downed log and every bank throughout their water at every flow level, and season after season you could rely on the accuracy of their odds.
Guy said the main show right then was Yellow Sallies. If you don't know Sallies, they're a general grouping of little stonefly species ranging from brownish yellow to plain yellow, matching hook sizes from 16 to 12. Lots of rivers, streams, and creeks put out Sallies.     
My fishing notes are poor for that afternoon on the Yakima, so now I'm not sure what size the Sallies were running, but I recall fishing a size 12 imitation and catching trout on it—it's possible though that the fly was oversize and Guy and Aron knew it and let me fish it anyway because they also knew that in that high flow the trout might not have time to fuss over a hook size or two.
We worked the edges of the river on through the afternoon into early evening. The trout were responding in a casual but consistent way, and over the hours of drifting and casting we caught plenty of 10- and 12-inch trout, which seemed to have taken over temporarily. But there were a few larger ones. All on dries.     
Carol did what she often does ever since I made the mistake of coaching her for a few years: one way or another, she out-fishes me. I can forgive. She hooked and landed a 17-inch bow, the biggest trout of the day. That's no monster on the Yakima—trout of over 20 inches are landed with some regularity—but it's a fine fish on the Yakima and, really, just about any other trout stream anywhere. So whether or not she landed the most fish, which I can't now recall, she did land the biggest fish. Often enough, she does both.
There were other respectable trout, cutthroats and rainbows both, of maybe 13 to 15 inches. But there's nothing in the world wrong with 13- to 15-inch trout—I had a blast. And, in fairness, some of the trout that got off might have topped Carol's dandy; a couple of them sent that feeling of real mass up the line before they broke off or came unhooked. You always wonder…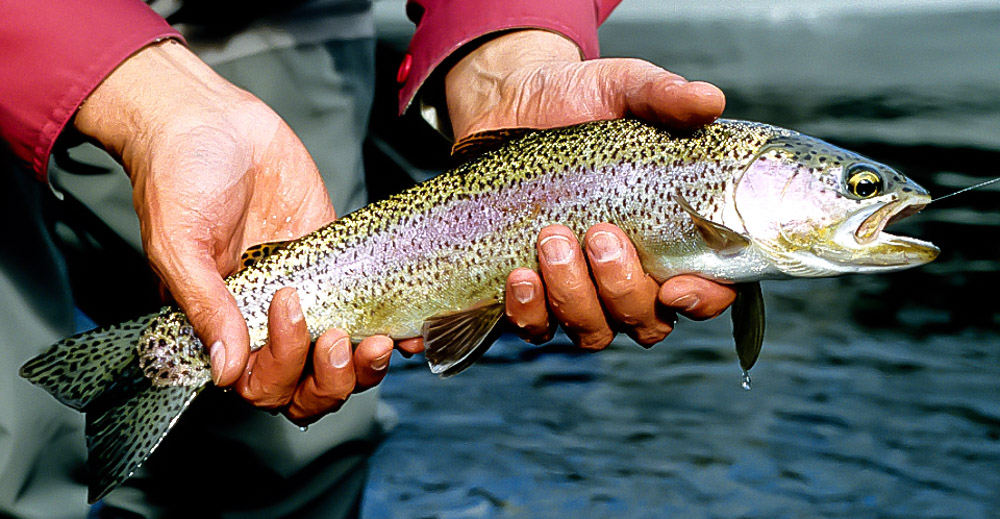 A wild Yakima River rainbow trout.
Dreamily flipping a dry out along the tangle of passing bank cover while a first-rate guide and oarsman does all the work: that's a great way to while away an afternoon. Sitting comfortably on a log and waiting while the guides who've politely refused your help load the boats onto their trailers, getting dropped off in time for a late dinner. What's better than all that?
To find out more about drifting the Yakima river
and to book a trip with guide Guy Drew
(Crow Creek Guide Services, Cle Elum, Washington),
click on the following link:
Click here to get more information

on drifting the Yakima

with guide Guy Drew and Crow Creek Guide Services...