Skip Morris Flies
The Process of Designing and Testing Successful Fly Patterns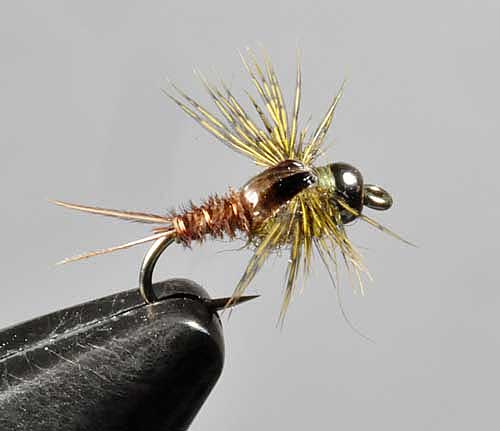 Anatomical BWO
Skip Morris flies...when it comes to designing flies, Skip's a real stickler.
Each of his original fly designs is tested and tested again, altered this way and that, to make the fly as effective and consistent as he can make it. It's a slow evolution—a fly can take three or more years to perfect (but if one just never measures up, Skip will abandon the design altogether).
The finished fly designs are tough, they do just what they're supposed to do (land upright, hook fish effectively, swim or shimmy or float), and fish love them.
Designed by Skip, Tied by Solitude Fly Company
The following flies are Skip's original designs and are tied by the Solitude Fly Company.

Solitude's flies are excellent; they use fine materials and their tiers are as good as any in the business. Most of their flies feature Daiichi hooks, and Skip's on the Daiichi pro-staff because he considers their hooks exceptional.

Poor hooks lose fish, while good hooks hold them, which is why a fly is only as good as its hook.



The sample flies in the photographs on each page were tied by Solitude.
Skip's Flies Are Now Available On-Line from Feather-Craft Fly Fishing
Feather-Craft Fly Fishing's on-line store now features Skip's flies. Feather-Craft is a big, well-established, reputable mail-order house.
They are ready to take orders, so we've added a link to this page (and to the individual fly information pages) so that you can go straight to their site and order Skip's flies directly.
Here's the direct link to the store so you can buy Skip's flies:
BUY NOW: Get Skip's flies from Feather-Craft...