Skip Morris Streamers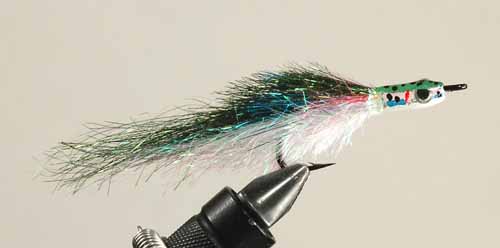 Morris Minnow, Rainbow
Skip Morris streamers...

...big trout love these bright and lively imitations of baby trout. These are Skip's most popular fly designs for streamer fishing in rivers, streams, and lakes.
Skip's Flies Are Now Available On-Line from Feather-Craft Fly Fishing
Feather-Craft Fly Fishing's on-line store now features Skip's flies. Feather-Craft is a big, well-established, reputable mail-order house.
They are ready to take orders, so we've added a link to this page (and to the individual fly descriptions themselves) so that you can go straight to their site and order Skip's flies directly.
Here's the direct link to the store so you can buy Skip's flies:
BUY NOW: Get Skip's flies from Feather-Craft...
To find specific flies more easily at the Feather-Craft store, we've placed a link by each fly's description that will take you directly to that fly on Feather-Craft's site (see photos and descriptions of the flies below).
The following flies are Skip's original designs
and are tied by the Solitude Fly Company.
The sample flies in the photographs below were tied by Solitude.
Baby Trout Imitations
Morris Minnows
(aka: Skip's Trout Minnows)
These
very bright
and
very lively imitations of baby trout
are
often deadly when nothing else seems to work.
Big trout especially love them.
Skip proved their effectiveness once again this last fall while fishing the massive Upper Columbia River near the Canadian border—
the trout would hardly look at another streamer,
yet the
Morris Minnows consistently hooked big rainbows.
But the Morris Minnows are just as effective on smaller rivers.
Skip's landed trout up to twelve pounds on this dazzling and productive fly.
Morris Minnow, Rainbow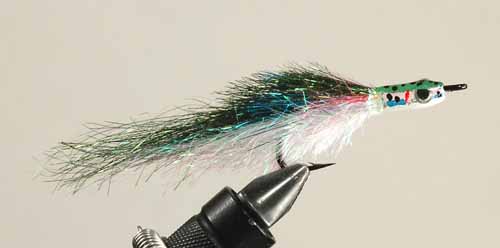 Morris Minnow, Rainbow
For imitating juvenile rainbow trout, which big trout love to consume.
Available in size: 4
Morris Minnow, Brown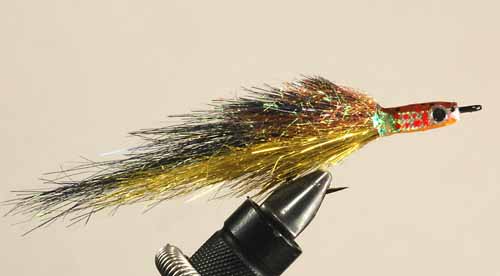 Morris Minnow, Brown
For imitating juvenile brown trout, which big trout love to consume.
Available in size: 4