Skip Morris Emergers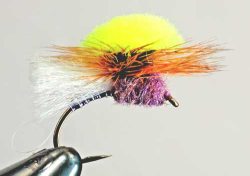 Skip's new attractor-emerger fly,
the Thunder Dome, Purple
Skip Morris emergers...

...trout love these convincing imitations of a insect struggling to hatch.



Emergers can be highly effective because they suggest an insect at a very vulnerable stage.




Skip's Flies Are Now Available On-Line from Feather-Craft Fly Fishing
Feather-Craft Fly Fishing's on-line store now features Skip's flies. Feather-Craft is a big, well-established, reputable mail-order house.
They are ready to take orders, so we've added a link to this page (and to the individual fly descriptions themselves) so that you can go straight to their site and order Skip Morris Emergers directly.
Here's the direct link to the store so you can buy Skip's flies:
BUY NOW: Get Skip Morris Flies from Feather-Craft...
To find specific flies more easily at the Feather-Craft store, we've placed a link by each fly's description that will take you directly to that fly on Feather-Craft's site (see photos and descriptions of the flies below).
The following flies are Skip's original designs
and are tied by the Solitude Fly Company.
The sample flies in the photographs below were tied by Solitude.
Mayfly Emergers
Morris May Emergers
This imitation of a mayfly at its most vulnerable stage—as it's wriggling from its shuck at the surface—is proven on tough trout in Colorado, Montana, Idaho, Washington, Oregon, and British Columbia.

It hangs its nymph-half under the water's surface while its front half (which imitates the thorax now free of the shuck) floats.

Skip's found his Morris May Emergers as reliable as emerger patterns can be, and longer floating than you'd expect from half-sunk emerger flies—Morris May Emergers are stubborn floaters.
Morris May Emerger, BWO
Morris May Emerger, BWO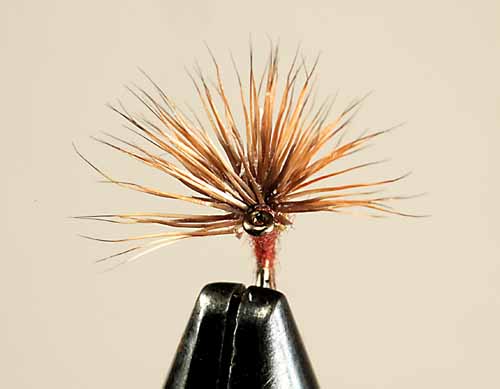 Morris May Emerger, BWO, front view

















For the blue-winged olive mayfly hatch—a common river hatch in the off-season, fall through spring clear across the US and Canada.

Available in sizes: 22, 20, 18
Morris May Emerger, PMD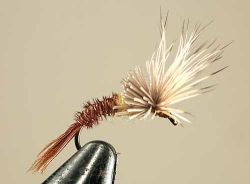 Morris May Emerger, PMD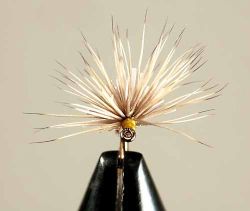 Morris May Emerger, PMD, front view

















For the sunny yellow pale morning dun mayfly hatch of western rivers, the bread-and-butter hatch of the season from late spring well into fall.

Available in sizes: 18, 16
Morris May Emerger, Green Drake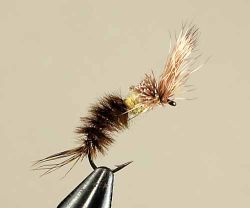 Morris May Emerger, Green Drake
Morris May Emerger, Green Drake, front view

















Imitates the big western green drake mayflies of rivers. A remarkable hatch that commonly raises big trout to the surface. A spring-summer event.


Available in sizes: 12, 10
Morris May Emerger, Callibaetis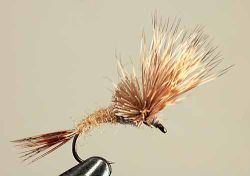 Morris May Emerger, Callibaetis
Morris May Emerger, Callibaetis, front view















Imitates that standard mayfly of trout lakes, Callibaetis. It's a late spring/summer hatch, and can come again in late summer to fall.

Overcast days are best with sometimes big trout swirling on the hatching insects over submerged weed beds.


Available in sizes: 16, 14
Attractor Emergers
Emerger-flies are ever more popular and deadly effective, and abstract attractor flies sometimes work wonders when imitative flies do little, but strangely, the Thunder Dome may be the only attractor-emerger fly in existence.
If there are others, they're certainly hard to find.
Both the black and purple versions of the Thunder Dome are
fine floaters
that dangle their flashing bodies and looped shucks
below the mirrored surface of the water
and display their location to you with
bright fuzzy domes
up where the trout can't see them.
When the time's right for a bright attractor-emerger, a
Thunder Dome
is really your only choice—and an excellent one.
Fish the Thunder Domes dead drift in

creeks, streams, and rivers.
Thunder Dome, Purple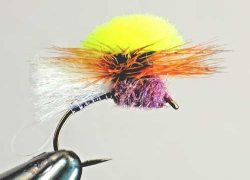 Thunder Dome, Purple
Available in sizes: 14, 16, 18
Thunder Dome, Black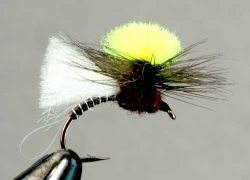 Thunder Dome, Black
Available in sizes: 14, 16, 18