Concise Handbook of Fly Tying
(*NOTE: Concise Handbook of Fly Tying has recently
gone out of print. Second-hand copies may be available on
Amazon or at second-hand book stores.)
A great little tying book for the beginner, and perfect for anyone's tying kit...
Concise Handbook of Fly Tying—this information-packed little book is a pared-down version of the bestselling beginner's manual Fly Tying Made Clear and Simple—a fine choice for the beginning tier and a handy reference guide to pack in anyone's
tying kit.
Five flies tied; tools, materials, hooks explained; many tying techniques presented...
Five standard flies are tied step-by-step, with captions and photos, and all the basic tying techniques are covered in depth.

Also, fly proportions, tying materials and tools, and hook design and selection are explained, and at the end of the book is a collection of even more fly designs to tie (thirteen additional flies in all).
Here are some sample pages from the book...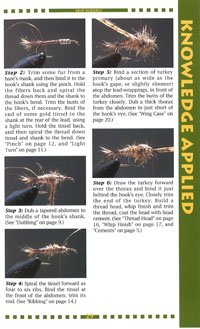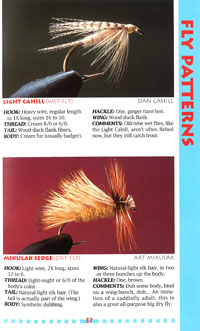 Top left: specific fly-tying techniques are shown and described in detail.




Top right: the tying of proven specific flies is also shown and described in detail.




Right: thirteen additional fly designs are presented at the end of the book.

This book is:


a collection of five flies tied step-by-step; with
thirteen additional patterns in the back



all color and 5 1/2 x 8 1/2 inches in size



40 pages total



priced at $7.95