Crab Creek Rainbows:
Chasing Big 'Bows in Washington's Desert
text by Skip Morris
photos by Carol Ann Morris

(click on any image on this page to see the gallery)
Gambling on a Winner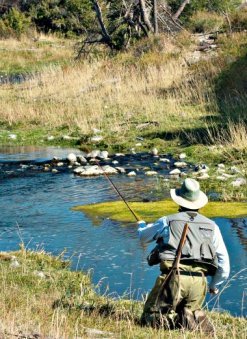 To see these images as a gallery,
click on any image on this page
Crab Creek Rainbows, Washington State — A professional gambler focuses a career's skill and experience on winning with whatever hand of cards he or she is dealt, which isn't far from what a fly-fishing guide does nearly every day of the season.
The first time Carol and I fished with G.L. Britton of Double Spey Outfitters on his private stretch of Crab Creek—a rich little stream fed by rain, snowmelt, and springs, winding clear and cold through the arid Eastern Washington desert—he'd been dealt a tough hand: a late-season heat wave had the creek down to a trickle and its trout sullen.
A Beautiful Desert Spring Creek (and an Ethical Guide)
To protect those trout from the stress of midday air temperatures of around 100 degrees he said we could only fish until about noon. Then he asked, "Do you still want to go?" We said yes. We're glad now that we did.
The ethical guides will tell you things like this, which says something about G.L. So, our day was short, but it was a fine day regardless.
The next year we returned in late spring to meet an entirely different Crab Creek. However, that's another story…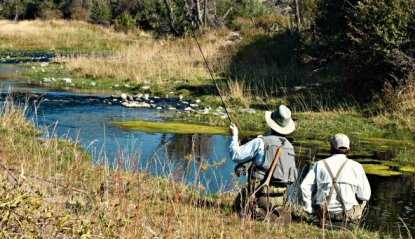 Such small transparent water required serious stealth—kneeling, approaching from well downstream, and dropping a fly lightly onto the water.

This is cattle country. Herds wandered through, bowing their heads for grass.
On this big pool we actually waded—but very quietly and only after working the fly thoroughly through all the water in the pool's tail.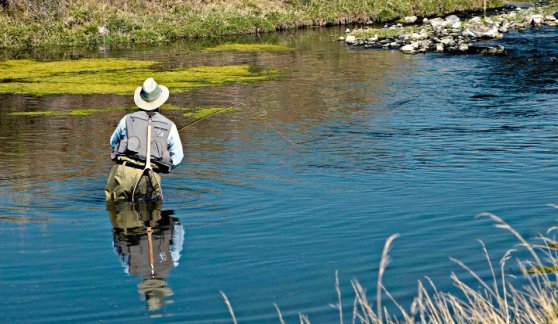 In the pool we hooked some smaller rainbows and a couple of 22-inchers.
But there were other big fish throughout the day.
One of the big boys. The 12-inchers leapt and sprinted with all the quick abandon you'd expect of healthy rainbows, which they clearly were. The big fish hadn't much room to run, but fought gamely.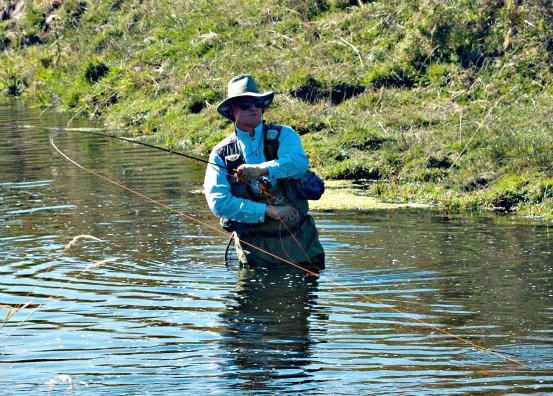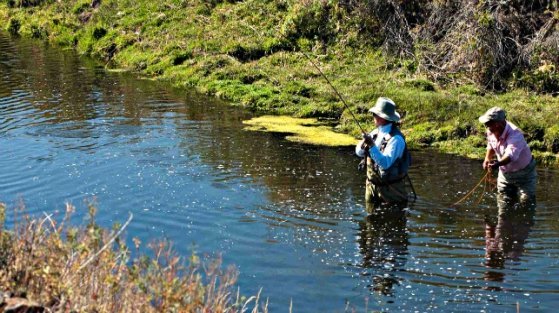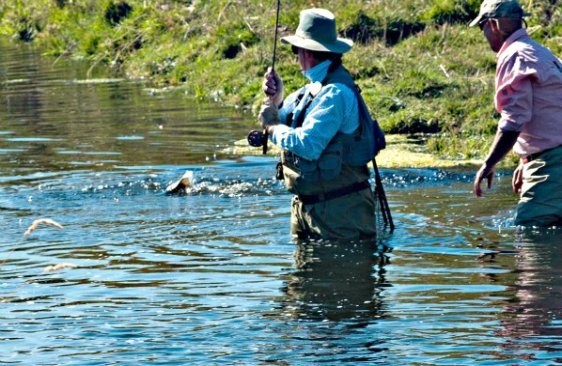 Skip Morris and GL Britton with the prize—a beautiful Crab Creek rainbow trout.