First Tuesday Tips
Tip 2: Sculpt a Fly
(This is Tip 238 in Skip's book, 365 Fly Fishing Tips for Trout, Bass, and Panfish)
This First Tuesday Tips: Tip 2 applies to Trout in Streams, Trout in Lakes, Largemouth Bass in Lakes, Smallmouth Bass in Lakes, Smallmouth Bass in Streams, and Panfish in Lakes.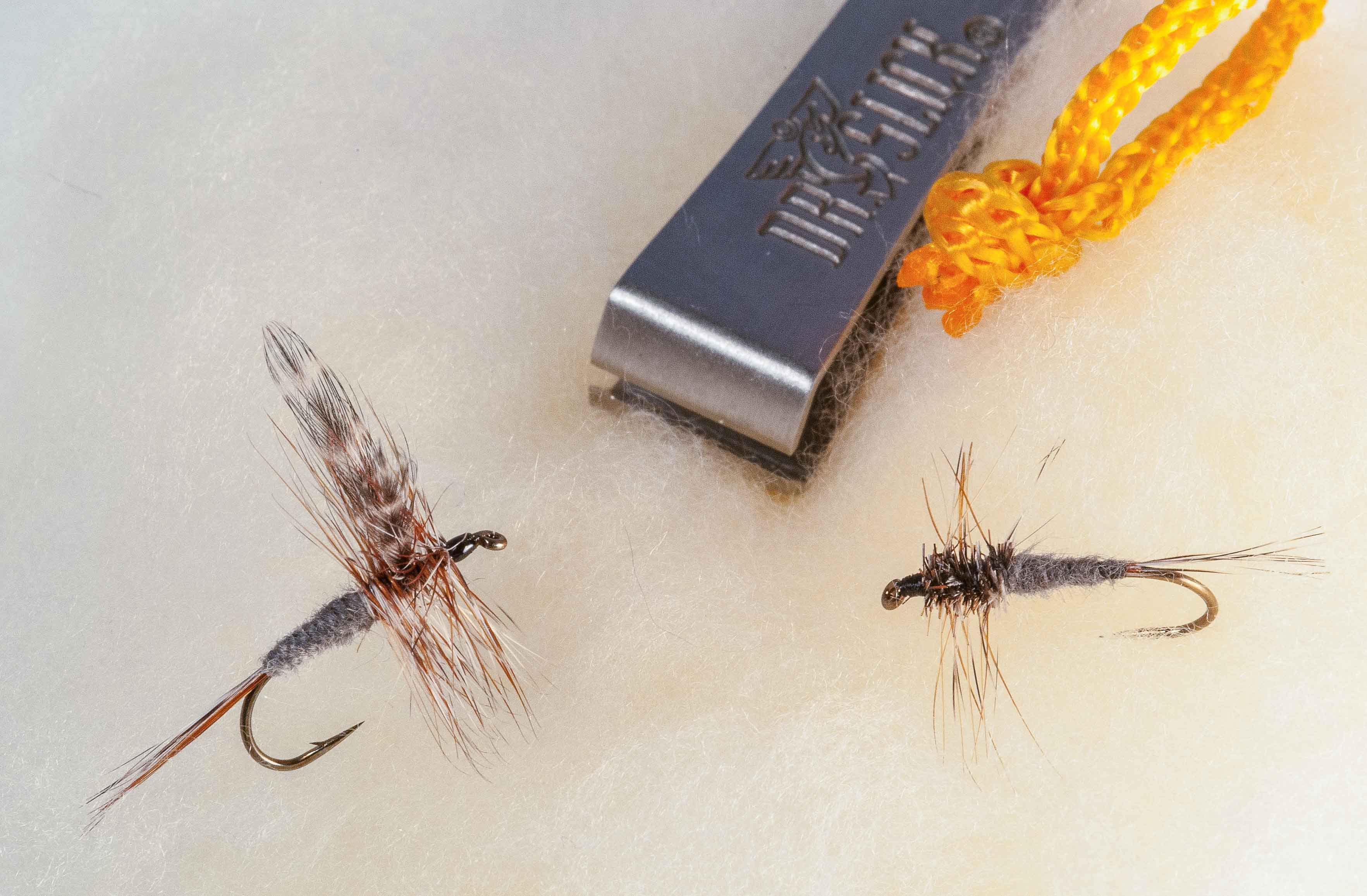 The original Adams (not Parachute Adams) on the left.
On the right is another just like it, or rather, one that was just like it before
cosmetic surgery turned it into a mayfly or stonefly nymph or even a mayfly spinner. Amputate the tail and what remains could pass for a caddis larva or pupa.
(photo ©Carol Ann Morris)
The stream is full of plump caddis larvae. You need a weighted fly (probably one with a metal bead for a head) that imitates the larva, but you have none in the right size or color. What to do, what to do. . .
Do this: Find a mayfly nymph imitation (with a bead) in the correct size and color, and trim off its legs and tails—now it's a fair imitation of that larva. A fly that started out imitating a caddis‐pupa can become a scud if you trim it right. A green Woolly Bugger can become a dragonfly nymph if you shorten its tail, perhaps trim the hackle fibers off its top. A Dave's Hopper looks a lot like a Golden Stone adult once you've snipped off the kicker legs.
A little creative sculpting on flies can make them effective imitations of all sorts of things they were never meant to imitate. And, in turn, save your fishing.