First Tuesday Tips
Tip 4: Don't Forget the Oldies
(This is Tip 232 in Skip's book, 365 Fly Fishing Tips for Trout, Bass, and Panfish)
This First Tuesday Tips: Tip 4 applies to Trout in Streams, Trout in Lakes, Largemouth Bass in Lakes, Smallmouth Bass in Streams, Smallmouth Bass in Lakes, Panfish in Lakes.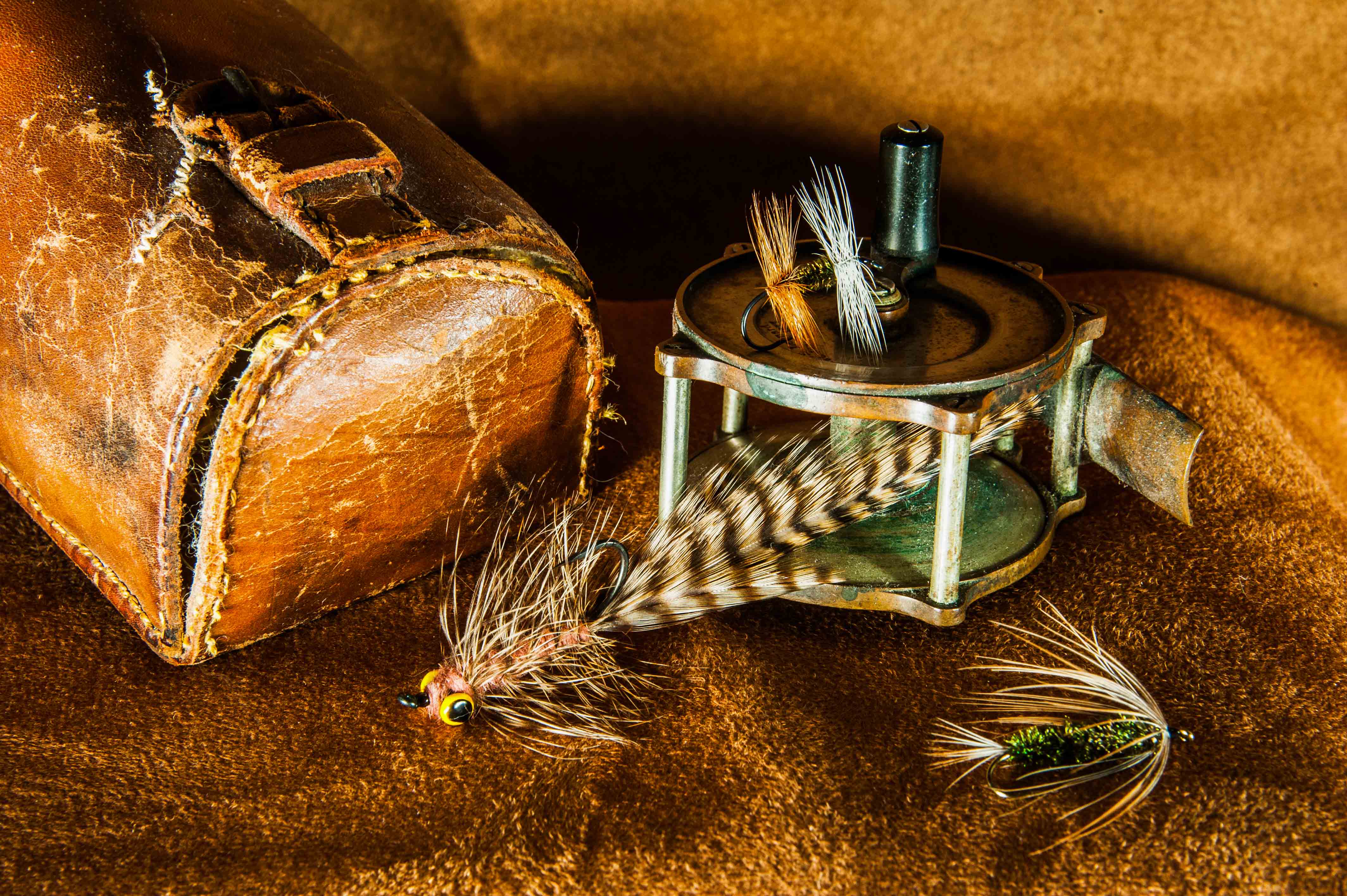 Atop that very old Leonard reel, the Renegade.
Lower left, Dave's Eelworm Streamer. Lower right, the Carey Special.
(photo ©Carol Ann Morris)
The top flies of earlier eras keep coming back around and that's a good thing—they are, after all, proven fish catchers. Check out the flies in a print-and-paper or on-line catalog and you might find, among all sorts of snazzy new patterns with trendy or catchy (sometimes lewd) names, the Carrie Special nymph from the 1920s, or the old Renegade dry sporting a hackle-collar at each end. As fly-tying and fly-design theories evolve and cycle, and fly patterns rise to prominence then sink to obscurity, some good stuff gets forgotten.
The fish we seek have, if not truly evolved, certainly wised up on the whole. Catch-and-release has educated trout, largemouths, smallmouths, bluegills, and maybe even crappies to the fly fisher's deceptions. (No, on second thought, not crappies, those poor, speckled, lovely brain-numb slabs. . .) All this, and yet that Carrie Special, a fly from a time when tippets were of silk and all fly rods had metal ferrules, catches trout in lakes today. I still fish the Eelworm Streamer, a largemouth-bass fly that first appeared in The Fly Tyer's Almanac (yes, "tyer"—some fly fishers like to spell it that way), published in 1975, and still catch bass on it. Trust me: there's nothing about the Eelworm that largemouths have stopped liking.
So if someone tells you he really nailed the rainbows on such-and-such lake or the smallies on such-and-such river with some ancient fly pattern, don't smile all smug as he walks away, shaking your head in pity for this Neanderthal stuck in fly fishing's Pleistocene epoch. Instead, consider fishing the pattern he mentioned.