First Tuesday Tips
Tip 8: Adult Dragonflies Can Make for Exciting Fishing
(This is Tip 256 in Skip's book 365 Fly-Fishing Tips for Trout, Bass, and Panfish)
This First Tuesday Tip Applies to Trout in Lakes, Largemouth Bass in Lakes, Smallmouth Bass in Lakes, Smallmouth Bass in Streams, Panfish in Lakes
A water–caught dragonfly adult: big, helpless, and (to fish) a fine snack—or full meal.
(photo ©Carol Ann Morris)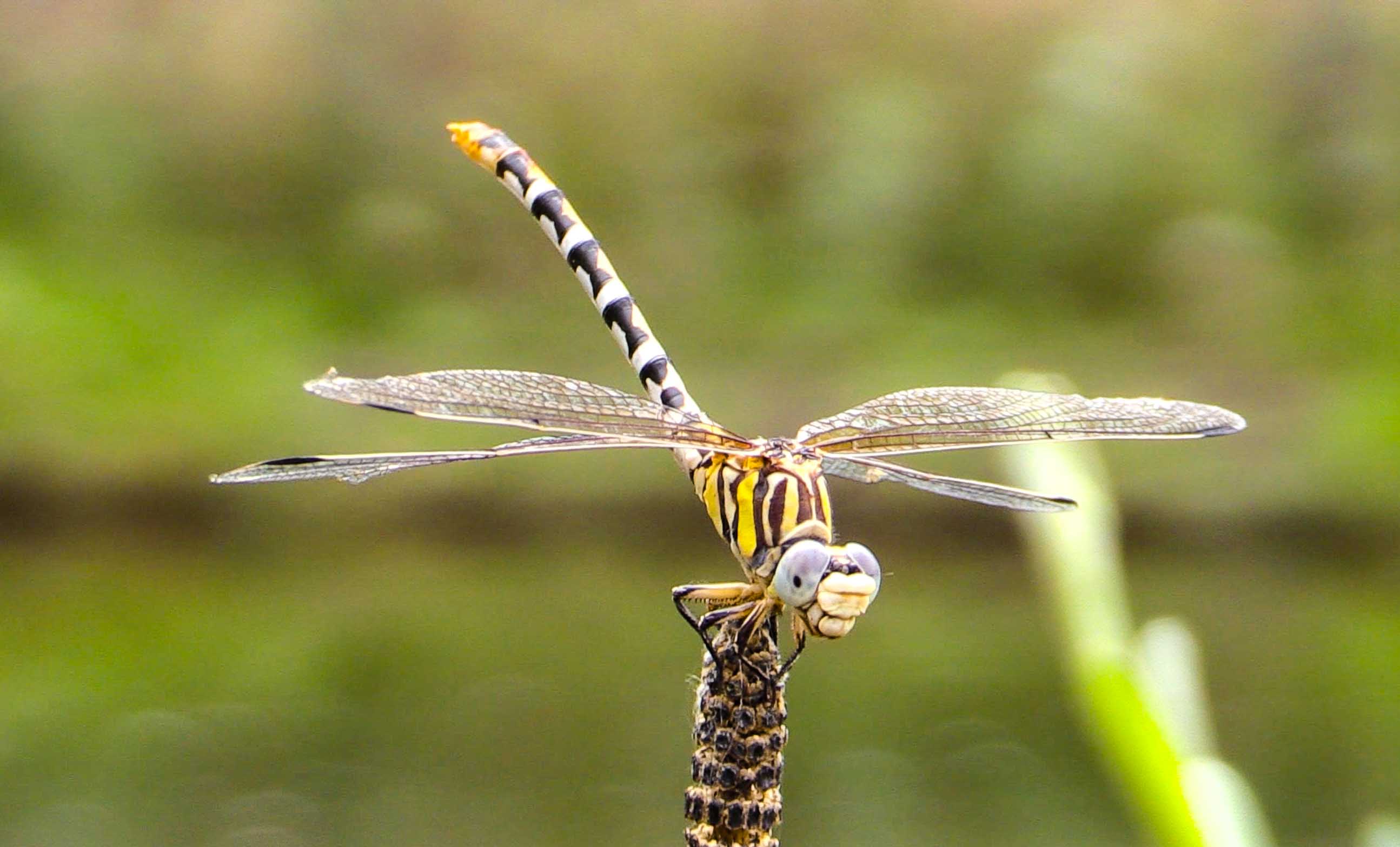 An adult dragonfly. The adults run a considerable range of size and color.
(photo ©Carol Ann Morris)
Yes, this Bett's Foam Dragon matches well the coloring of the real dragonfly above. But you won't find this particular fly for sale; I had to tie it and color it myself. You will find lots of fine adult–dragon patterns of all kinds and colors out there for sale, however, and they'll likely work just as well.
(photo ©Carol Ann Morris)
In Fly Fishing for Western Smallmouth, author David Paul Williams says, "Dragonflies are a smallmouth favorite. Nymph patterns catch fish but adult imitations are great fun to fish." Amen to all three points, David, but especially to your last.
I remember the final 20 minutes of my final day on a desert smallmouth river a couple of years ago: Twelve times I splatted a foam dragonfly onto the tail of a big pool, nine times it went under with the swift smack of a bass. It can be that good.
Largemouth bass go after adult dragons, too. They'll hunt the big bugs around the shallows, leap to snap them out of the air or off reeds, grab them when they get caught on the water, and ignore flies that don't look like them or act like them.
The trick with a dragon–adult fly for large and smallmouths both, I've found, isn't to get a fly of just the right size and shape and color; it's to get a fly of roughly comparable size and shape (color seems of minor importance), drop or slap it down amid the action, and then make it act like the insect: this means twitches, pauses—all of it subtle.
That's also how it worked the one time I found trout in a lake chasing adult dragonflies.
Damselflies are essentially smaller, daintier version of dragonflies, and both basses—and panfish—will get onto them. Just follow the rules I laid out for fishing dragon–adult flies, but tone down the movement even more.