Flies for Sea-Run Cutthroat Trout DVD
Meet the sea-run cutthroat trout...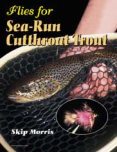 Flies for Sea-Run
Cutthroat Trout DVD
California, Oregon, Washington, Alaska, British Columbia—a migratory form of the cutthroat trout haunts beaches, points, creeks, and rivers along most of the west coast of North America.

Fly-fishers know him as the sea-run cutthroat, a muscular slab of spotted silver that can grow to several pounds. And among cutthroats there may be big Pacific Salmon.
Born in rivers, migrates to salt water...
Cutthroat trout are born in rivers but migrate out of them into salt water to feed on its abundance. Sea-run cutthroat trout can be caught at certain tides and in specific sorts of structure in salt water, and in particular kinds of holding water when they return to rivers to feed or spawn.
Five solid flies for sea-runs, and the techniques to help you catch them...
In Flies for Sea-Run Cutthroat Trout DVD, fly-fishing celebrity Skip Morris will show you how to tie such proven sea-run cutthroat flies as the Raccoon, Jim Dandy, Spruce Fly, and others—and then show you where and how to fish them.

He'll take you from tying the patterns at the vise to walking a beach or wading a river and working them for sea-runs and salmon.
Discover these remarkable fish and
the fascinating flies that consistently take them.
Why these particular flies for sea-run cutthroat?
For two very important reasons...
Skip choose these particular flies for two important reasons:
these flies have been around a long time—they're proven and deadly,


by tying them you learn basic tying techniques that are the basis of
tying sea-run flies in general.
Check out what Skip's DVD has to offer:
This fly tying dvd has:
step-by-step fly tying instruction by Skip, and includes
these five flies:


Raccoon
Jim Dandy
Skip's Sculpin
Spruce Fly
Glo Bug
Skip takes you fishing for sea-runs, and shows you
where to find them and how to catch them
about two hours of combined tying and fishing instruction
a price of $29.95
Buy Skip's DVDs On-Line
Go to Amazon to check for copies of "Flies for Sea-Run Cutthroat Trout" DVD.