Fly Fishers Guide to
Western River Hatches
(*NOTE: Fly Fisher's Guide to Western River Hatches has recently
gone out of print. Second-hand copies may be available on
Amazon or at second-hand book stores.)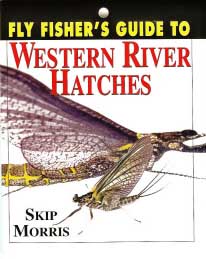 Just the facts, just the important facts...
Fly Fishers Guide to Western River Hatches—this little streamside handbook gets straight to the point—only the important information about successfully fishing the mayfly, caddisfly, stonefly, and midge hatches of western trout rivers are here.
When, where, what, and how...
You'll understand when and where to find each hatch, what flies work for it and how to fish them.


Illustrations and photographs show every stage of every one of the
major insects,



The size range of each insect is shown in actual size,



three popular, effective flies are listed for each hatch,



There is a seasonal chart showing when the various insects hatch.



All this in a book that fits in a normal chest pocket.
Here are some sample pages from the book...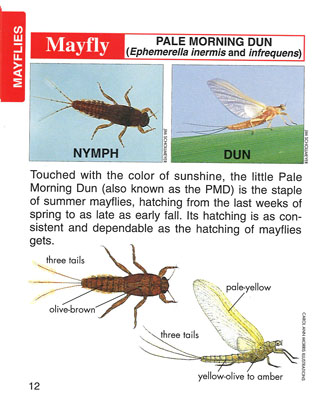 Top left: photographs of real insects along with accurate illustrations and details for identification.



Top right: critical information on when, where, and how the insect hatches; how to effectively fish the hatch; and samples of imitative flies.



Right: an introduction for each insect-group includes fishing techniques.

This book is:


all color, and covers the major insect hatches of western rivers



softbound, 4 x 5 inches in size, literally fits in your pocket



30 pages total



priced at $4.95