The Art of Tying the Bass Fly DVD
Do you want to learn how to spin and sculpt deer hair,
make snag guards, and other important
bass fly tying techniques?
Master fly tier Skip Morris will show you how, step-by-step...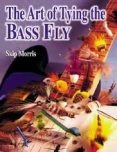 The Art of Tying
the Bass Fly DVD
The Art of Tying the Bass Fly DVD is based on the book of the same title (which is temporarily out of print while the new edition is under production), with lots of instruction on:
spinning hollow deer hair,
making snag guards for flies that can go back in the lily pads where bass love to hide,
flies for largemouth bass, smallmouth bass, and the pan fishes,
and even on-the-water instruction on how to fish these flies.
Learn to tie five deadly patterns for bass and panfish...
You'll learn to tie a hair bass bug, the long-proven Eelworm Streamer, a surefire pan-fish killer called the SMP, and two other excellent flies for bass (see the full list in the box below).
Be prepared for exciting action...
*Note:
Skip not only shows you how to tie these fascinating flies, he discusses how you can fish them effectively as well.
If you haven't watched a largemouth bass explode on a hair bug, a bluegill chase down a little sunken fly, or a smallmouth bass inspect and then scoop up an imitation of a crayfish from a sandstone riverbed, then you're in for a new adventure when you fish for these aggressive predators.
Why these particular bass flies? For two very important reasons...
Skip choose these particular bass and panfish flies for two important reasons:
these flies have been around a long time—they're proven and deadly,


by tying them you learn tying techniques that are the basis of
tying bass and panfish flies in general.
Check out what Skip's DVD has to offer:
This fly tying dvd has:
step-by-step tying instruction by Skip, and
includes these five bass flies:


Hair Bass Bug
Dave's Eelworm Streamer
Clouser Minnow
Skip's Dad
SMP (aka Skip Morris Panfish)
instruction on how to spin and trim deer hair step-by-step
105 minutes of tying instruction
a price of $26.95
Buy Skip's DVDs On-Line
Two of the biggest and most trusted fly-fishing mail-order houses in the business are carrying all of Skip's DVDs: Feather-Craft Fly Fishing (in the East: St. Louis, MO), and The Fly Shop (in the West: Redding, CA).
To buy this DVD now, click on one of the link's below:
in the west:
BUY NOW: Go directly to The Fly Shop
to get Skip's The Art of Tying the Bass Fly DVD...
in the east:
BUY NOW: Go directly to Feather-Craft Fly Fishing
to get Skip's The Art of Tying the Bass Fly DVD...