The Art of Tying the Nymph DVD
Do you want to learn to tie nymphs for trout?
Master fly tier Skip Morris will show you how fun
and fascinating it is to tie these flies...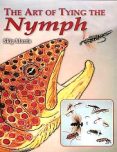 The Art of Tying
the Nymph DVD
This fly tying DVD is all about nymphs—ten tied altogether.

Trout, and other fish, feed heavily on nymphs, which makes artificial nymphs deadly effective. Through this DVD, Skip shows you how tying nymphs becomes logical, fun, and fascinating.
A variety of essential tying techniques, and ten deadly nymphs...
You'll learn how to tie bead-head flies, make a dubbing loop, work with peacock herl, add lead wire and many more essential techniques for tying nymphs. Flies include the Rip Caddis, Serendipity, Brassie, along with seven other popular nymphs (see the complete list in the box below).
Why these particular nymphs? For two very important reasons...
Skip choose these particular nymphs for two important reasons:
they're a broad selection of excellent flies,


by tying them you learn basic tying techniques that form the basis of
tying nymphs in general.
Check out what Skip's DVD has to offer:
This fly tying dvd has:
step-by-step tying instruction by Skip, and
includes these ten nymphs:


Gold-ribbed Hare's Ear
Copper-Core Pheasant Tail
Dubbing-Loop Damsel
Skip Nymph, Dark
Morristone
Partridge and Orange Soft Hackle
Rip Caddis
Serendipity
Brassie
a typical bead-head nymph
bead-head fly variations and a discussion on the art of substitution
how to make a dubbing loop, work with peacock herl, add lead wire, and other important nymph tying techniques
110 minutes of tying instruction
a price of $26.95
You Can Buy Skip's DVDs On-Line