Third Thursday Flies
4. Mikulak Sedge
with Skip Morris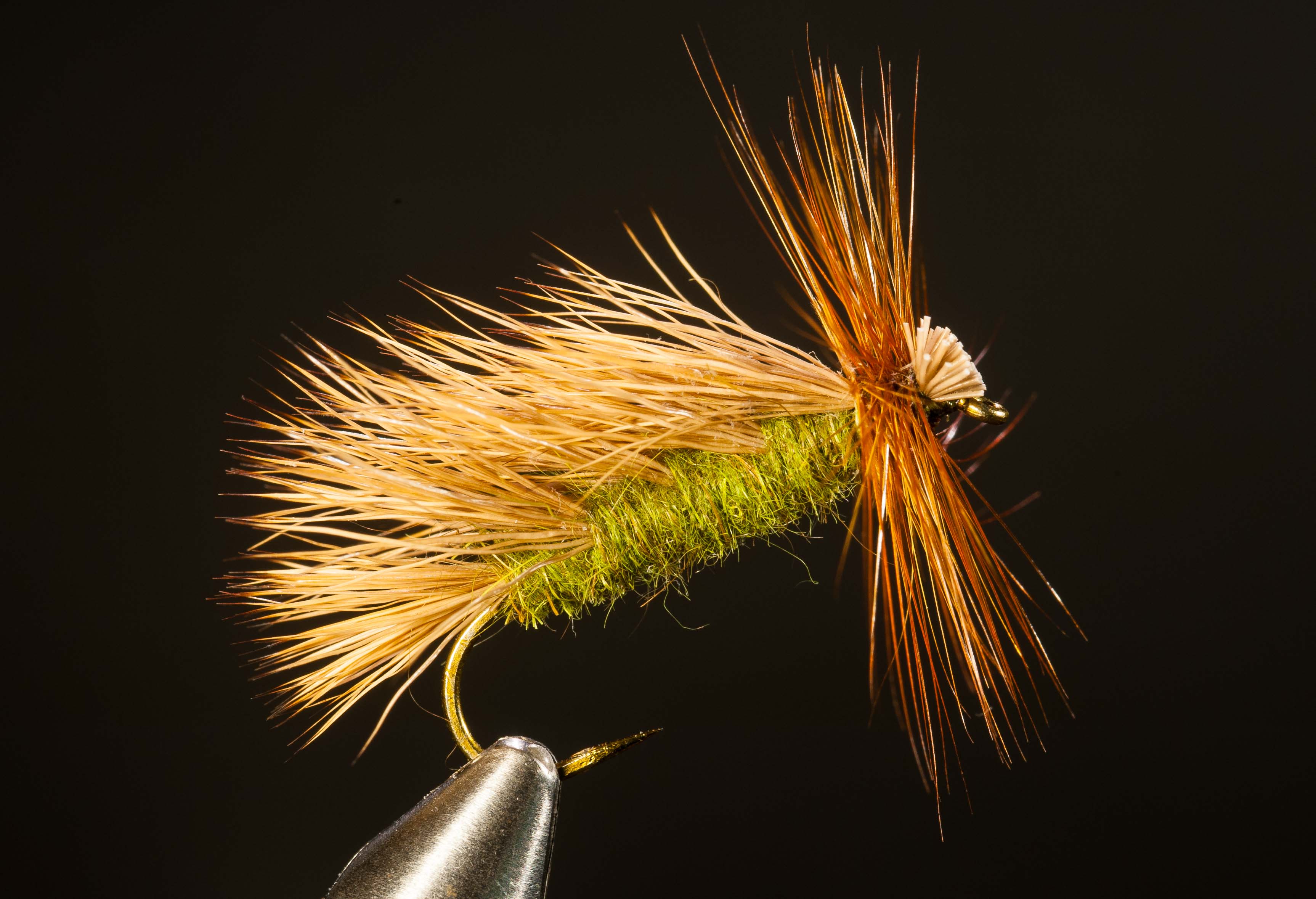 (Photo © Carol Ann Morris)
For starters, "sedge" is a British term for "caddis." The Mikulak Sedge is a fly from British Columbia, so . . . see?
BCers are fine with both words, "sedge" and "caddis," and judging from the stubborn popularity up there of the Mikulak Sedge, a caddis-imitating dry fly, they're big fans of the bug they name. They should be: caddis hatches in BC lakes can be heavy and exciting. I've seen middling-size caddis popping out all over one interior BC lake, caddis this size scampering across the top of another and rainbow trout jumping them. I've encountered huge Traveler Sedges coming off lakes up there and in a lake far over in the southeast corner of the province, and that's serious business for the fly fisher.
Beyond lakes, there are of course caddis hatches in BC streams and the trout move to them. I know this; I've fished caddis hatches in some of those streams and caught trout by doing so. But only lakes concern us here because, above all, the Mikulak is, to nearly all its believers, a trout-lake fly.
A unique fly too. Using hair wing-butts to suggest an insect head isn't unusual, but building a consolidated hair wing in several sections is.
And the Mikulak is a solid imitation of a caddis adult. Take an underside look at a Mikulak Sedge and you'll see the hackle fibers as legs, the body exposed and thick and neat like a caddisfly's body, the tips of the wing hairs bordering that body and extending well off its back end: all very adult-caddis-like.
The Mikulak is fished mainly to imitate the Traveler Sedge, and the Traveler is the star of BC lake caddis. The enormous bug is here too, in the American West, in Washington and Oregon, in Idaho and Montana, and probably in lakes in other Western states. Wherever this giant caddis hatches, the Mikulak will serve.
Hatches of the Traveler Sedge can be amazing—trout of three pounds, five pounds, even more pounds coming up and grabbing the huge bugs. Big and really big trout coming to a floating fly! You toss your Mikulak out into the action, slide it, pause it, slide it again so it makes another tiny "V" on the water. A great head emerges . . . Three X tippet seems so fragile when you set a Mikulak into a charging, four-pound rainbow, and is.
In Idaho a twitched Mikulak took me a fine rainbow from a famous spring creek. (Heresy . . . yes, I get it.) In Washington it's taken me other rainbows on the Yakima River. Fish it on streams to imitate the October Caddis that's as big as the Traveler or to imitate the giant stoneflies, the Salmonfly and Golden Stone, or just to drum sullen trout up.
Or fish it where its creator, Art Mikulak, apparently intended, on lakes.
Apparently there are a lot of "apparently"s where Mr. Mikulak is concerned.
I dug through my books about flies, including some titles by Canadian authors, and found nothing about the man and his very Canadian-popular fly. So, despite knowing how unreliable internet information can be, and often is, I reluctantly investigated some websites. Apparently Art Mikulak lived in Calgary, Alberta and apparently he liked to trim off the hackles along the underside of his Sedge, which apparently most fly fishers do not. But I vouch for none of that. If you suspect that information to be faulty, take it up with the internet.
As to whether the Mikula Sedge is a cleverly conceived and rightly trusted fly for imitating Traveler Sedges? No question: yes, it definitely is.
MIKULAK SEDGE, GREEN Art Mikulak
HOOK: Standard (or heavy) wire, 2X long, sizes 12 to 6.
THREAD: Olive 6/0 or 8/0.
TAIL: Natural-light elk hair (the tail is really part of the wing).
BODY/WING: Sections of dark-green buoyant synthetic or natural dubbing separating bunches of natural-light elk hair.
HEAD: The cut-short butts of the last, forwardmost wing section.
HACKLE: One, brown. (Trimming the hackle-fibers flat or to a "V" underneath is optional.)
COMMENTS: These colors match the Traveler Sedge. Use whatever colors match whatever insect you're imitating or colors that simply please you.