Third Thursday Flies
5. Quigley Cripple
with Skip Morris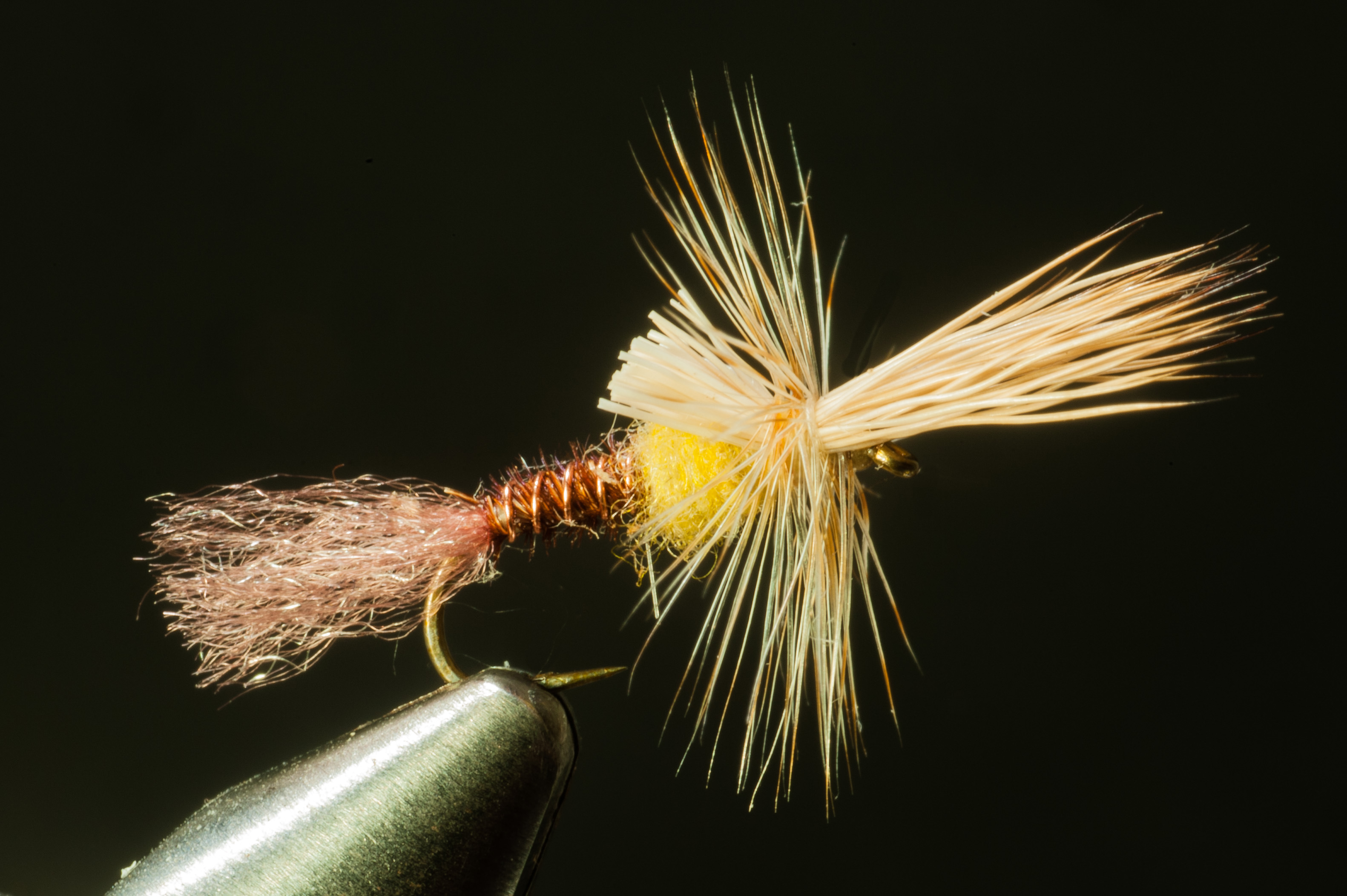 (Photo © Carol Ann Morris)
Sometimes a fly inspires a whole lot of other, similar flies. Over the past few decades I've seen many fly designs that clearly inherited a hefty chunk of their DNA from Bob Quigley's Quigley Cripple. In fact one of my own flies, the Morris Emerger, is about forty-percent Quigley. It's a true hybrid design, the other borrowed forty coming from the Compara-dun. Yes: on this pattern I score a whopping twenty percent (Whoopee!) for originality. (Though I suppose I could argue that the combining itself is where the originality lies—but who'd bother to listen?)
What really makes the Quigley Cripple stand out (or, rather, made it stand out before so many tiers harvested its DNA) is its bunched hair wing, like the closed wings of a real mayfly, and the butts of that hair cut short to a stub representing the burst-open back of a hatching mayfly's shuck where the wings came free. That stub—it's at the base of the hair, where the hair is thickest and most pocketed and therefore most buoyant. So: wing and shuck represented and buoyancy enhanced all by one tip-evened bunch of sheared-off hair. Slick, Bob!
The Quigley is much more, though, than just a clever fly design. When I first saw it back in the 1980s it seemed an oddity. But soon it seemed the leader of a revolution: the floating-emerger revolution. Not that it was the first such fly. Clear back in 1971 Swisher and Richards's Selective Trout was released—a revolutionary work itself in many aspects—and it offers a number of what it calls "emergers" and says that when tied on light-wire hooks these emerger patterns can be treated with floatant. There is only one sane reason to treat flies with floatant: to make them float. Hence: floating emerger-flies. Marinaro's In the Ring of the Rise was published in 1976 and includes a strange one, his Hanging Emerger, a sort of barely-short-of-submerged upright nymph that might have been named the Helicopter Emerger for the fan of wildly long hackle-fibers that radiate from its shank something like the blades radiating from the hub of a helicopter rotor. It's those fibers alone that hold the thing up.
Swisher and Richards and Marinaro were onto something, but as I recall, the fly-fishing public wasn't generally ready for that something. When the Quigley hit, however, for some reason, they were ready. The fly got increasing press and chatter (real chatter—there was no online chatter because there was no such thing as online). Clearly, it was catching fish.
The Quigley Cripple is designed to take a certain posture. Its absorbent abdomen and its tail (which is really supposed to be the empty rear part of a mayfly's shuck), its buoyant wing and burst shuck of hair, they're all about getting its back end sunk and keeping its front end afloat. The hackle, representing mayfly legs (the Quigley's strictly a mayfly imitation), leans on the water to help push the tail and abdomen down and tip the abdomen and wing up. A mayfly still struggling from its shuck, a shuck broken out along the back where the wings are coming out, that's the Quigley Cripple.
I researched Bob's fly for my book Fly Tying Made Clear and Simple II, Advanced Techniques, but I can't recall if I got the fly's history and details directly from Bob himself. The publication date is 2009, and Bob left us for celestial waters in 2012. I knew Bob a little, sat next to him at a fly-fishing exposition, exchanged a few emails with him over the years, so it's likely he was my source. But my notes for that book are now recycled paper and my poor memory has aged to the classification of "dreadful" (or to be kind, of "inconsistent" or "unreliable"), so who knows? Certainly not I.
Still, I'm a good little researcher, and according to my own book, Bob worked out his Cripple in a laboratory consisting of his tying vice and the Pale Morning Dun mayfly hatches of California's Fall River. The damned trout kept dodging his conventional dry flies. His Quigley Cripple changed that. From there it began changing the odds for scads of other fly fishers facing similar situations. And thus: the revolution.
Despite all the variations others have concocted based on Bob's Cripple, his original fly is still a winner. Tie it or buy it in colors and sizes to imitate PMDs, Western Green Drakes, Flavs and Blue-Wings and Pale Evening Duns and any other mayflies you like. Then show your Quigley Cripples to your trout. You and they will both be impressed.
QUIGLEY CRIPPLE, PMD Bob Quigley
HOOK: Light wire, standard length to 1X long (a standard dry-fly hook), size 20 to 14.
THREAD: Yellow or olive 8/0 or 6/0.
TAIL/SHUCK: Brown Antron yarn, Z-lon, or marabou.
RIB: Fine copper wire (I prefer gold wire, but not so fine that it's fragile).
ABDOMEN: Pheasant tail.
THORAX: Pale-yellow buoyant synthetic dubbing (Superfine Dry Fly, Poly . . .)
WING/BURST SHUCK: Natural-light elk hair or coastal deer.
HACKLE: Ginger or cream.