Clear and Simple Fly Tying
and
Fly Fishing Instruction
Skip Morris Clinics:
Friday, April 26, 2019
(Fishing for Bass and Panfish PowerPoint Show)


Saturday, April 27, 2019
(Hands-On Fly Tying Clinic for Bass and Panfish)
How to Tie and Fish Flies for Largemouth Bass and Panfish
The Fishes We Fly Fishers Have
Everywhere and Ignore
Bass Bug by Skip Morris


PowerPoint Presentation:
Largemouth Bass and Bluegills on a Fly
Friday, April 26, 2019 (call shop for details)
Washington State is Lake Central—we have lakes all around us—and most of them grow lots of chunky hard-fighting largemouth bass. Our lakes also grow panfishes, such as bluegills and crappies—fun, abundant, scrappy. After the trout in our lakes quiet down in summer's heat, these warm-water-loving species come alive; learn to fish for them and your fishing opportunities blossom.
Hands-On Tying Clinic:
Tying Bass and Panfish Flies with Skip Morris
Saturday, April 27, 2019
Skip Morris (author of The Art of Tying The Bass Fly) will be the instructor-at-your-side helping you tie deadly flies on these overlooked fishes. You'll learn the Dave's Eelworm Streamer, the Predator (a super-popular foam fly for panfish and bass—and trout), and you'll learn to spin deer hair and sculpt it into a bass bug.
Come tie top bass and panfish flies with a bass-and-panfish expert, and then learn how, where, and when to fish those flies for these wonderful sport-fish waiting just down the road.
You'll get a handout with the fly dressings and information on how, when, and where to fish bass and pan-fish flies. You'll also leave with a fly Skip tied.
Skip is the author of 18 fly-fishing books, seven specifically on tying flies, and over 300 articles in the fly-fishing magazines.
Number of attendees is limited—call the shop now
to reserve your spot.
THE DETAILS
DATES:
Friday, April 26, 2019 (PowerPoint presentaion on
fly fishing for bass and panfish)

and


Saturday, April 27, 2019 (Hands-on tying class on bass and bluegill flies)
TIME:
Friday, April 26, 2019, in the evening. Call the shop for details.



Friday, April 27, 2019, 9:00am to 3:00pm.
COST:
Friday, April 26, 2019.


Powerpoint show on fly fishing for bass and panfish. $35 (pay in advance to reserve your spot).

Saturday, April 27,2019.


Hands-on fly tying clinic; tying bass and panfish flies. $75.00 (pay in advance to reserve your spot).
REGISTER:
call the Avid Angler Fly Shop at (206)362-4030.
MAXIMUM ATTENDEES:
8
PROVIDED:
Materials and take-home materials included,
Cookies, drinks, coffee included.
*Lunch break at 1130 am - bring lunch or purchase onsite.
Good restaurants and bar and grill upstairs.
Bring your own tying tools and vise.
LOCATION:
The Avid Angler


17171 Bothell Way NE #A272


Lake Forest Park, WA 98155


Local: (206) 362-4030


Toll Free: (877) 347-4874
At the end of the clinic, Skip will present you with a gift:

a fly he tied.
To sign up for Skip's hands-on fly tying clinic for bass flies at

Avid Anglers, Lake Forest Park (Seattle area), Washington, click here...
The Predator is now available to buy...
Skip's ultra-popular Predator—a hit fly for bluegills and other panfishes and largemouth bass (also catches smallmouth bass and trout)—is being tied commercially by the Solitude Fly Company.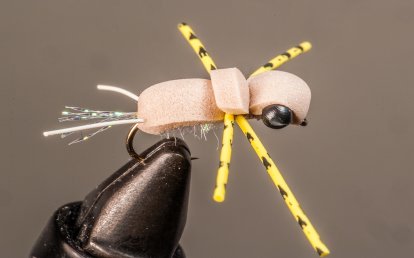 The Predator
CLICK HERE to learn more about or to purchase the Predator...
Welcome! We're glad you're here...
Fly tying and fly fishing are equal parts fun, art, information, and fascination. Whatever tips and lessons Skip has learned at the vise or by the stream, you'll find them here.
So...Who are We?
We are Skip Morris, the down-to-earth author of eighteen books on tying flies and fly fishing (including the best-selling beginner's book, Fly Tying Made Clear and Simple), and Carol Ann Morris, whose artful photography and detailed watercolors have been published in major fly fishing magazines (ie, Gray's Sporting Journal, Fly Fishing & Tying Journal, Yale Angler's Journal, and others), and also in Skip's books and articles.

We're a husband-and-wife team who've been fishing together for over twenty years, and we love sharing our passion for fly fishing. We'll provide you with clear and simple instruction to make your journey into this sport fun and informative.
The Creative Art of Tying Flies
If you want to learn how to tie the Turck Tarantula, you'll find instructions here. The Miracle Midge? It's here too. So are the Articulated Leech and the Hackled Skip Nymph.


All are effective, intriguing flies, and there are many more.


Every tying step is explained with clear and simple instruction through detailed text and up-close-and-personal photographs, and that makes tying these flies easy to learn.
An Insider's Tips for Taking Fish on a Fly
There is also instruction on how to use big attractor flies to motivate large trout to strike, how to catch salmon off of Washington's wild coast, and how to work chironomid-pupa imitations deep in a lake where big trout live.

There are many other techniques we'll share based on our experience on the water, and these tips will help you hook more fish and have more fun doing it.
Get an inside look at the secrets of this amazing sport, and find out more about the intriguing world of fly tying and fly fishing.

The information offered here gives you the chance to learn new skills and
enjoy yourself as you go.
Fly Fishing and Tying Article Libraries
The fly fishing and tying article links below (and in the left-hand navigation column) will take you to previously-published magazine articles (most of them written by Skip, and a few written by Carol).
These informational pieces span 25 years.
Some are filled with the
fundamentals of tying
and
fishing techniques
that remain vital to this day. Others contain
cutting-edge fishing strategies
or outline
clear and simple tying instructions
for many of today's most popular flies.
Skip's books, flies, lessons, ezine (now published in a
two-book volume), and more....
Other links take you to information about Skip's books, fly designs, fly tying lessons, talks and presentations, and the on-line magazine HookedNow (now published as two books by Stackpole, November 2014), that he contributed to (along with fellow fly-fishing writers Dave Hughes and Rick Hafele).
So...are you ready to get started?
Find a quiet corner, settle into your favorite chair, and join us...
Do You Need a Speaker for
Your Club Meeting, Banquet, or Show?
Would you like to contact Skip or Carol to do a talk for your


club meeting, conference, banquet, conclave, or sportsman's show?
For a list of Skip's Programs, click here:
For a list of Skip's fly tying clinics, click here:
Carol gives a 50-minute presentation on photography called


"Fly Fishing Photography 101: How to Capture What You See."



She'll provide more details on request.

Use the "Contact Us" form, or the "Contact us here" link above to get in touch with
Carol about her talk.
Table of Contents
A diverse collection of fly tying articles written by fly fishing author and speaker, Skip Morris.
Skip Morris Fly Tying Blog keeps you up-to-date with all the additions and changes to the skip-morris-fly-tying.com website. Subscribe here.
A collection of fly fishing articles that author Skip Morris has published with the major fly-fishing magazines over the past 20-some years.
Skip Morris Presentations: Master tier Skip Morris offers a variety of talks and clinics on fly fishing and fly tying that have been popular at fly fishing clubs and shows around the world.
Who is Skip Morris? He is a fly fishing author and expert fly tier who has published over 250 articles and eighteen books on fly tying and fly fishing.
Contact us if you are interested in having noted fly fishing authority Skip Morris speak at your club, fly shop, or fly fishing event.
Fly tying lessons with master fly tier and instructor, Skip Morris. Skip is offering one-on-one one-hour fly tying lessons with individuals up to groups of four.
Dave Hughes, Skip Morris, and Rick Hafele have put together a fly fishing enewletter (called HookedNow) designed to help you improve your fly fishing skills whether you are new to fly fishing or an old timer. As of November 2014, Stackpole Books has published this collection of articles as two books...Tactics for Trout and Seasons for Trout.
Fly fishing photo essays by professional fly fisher and author Skip Morris and his wife, photographer Carol Ann Morris. These essays document fly fishing adventures these two avid fly fishers have taken over the last twenty years.
Skip Morris DVDs...master fly tier and fly fishing author Skip Morris has a variety of DVDs available that explore the world of fly tying and fly fishing. For both the beginner and experienced angler and fly tier.
Skip Morris Blarticles. Written by well-known fly fishing author Skip Morris, he has put into prose his reflections, off-the-cuff impressions, thoughts, experiences, and suggestions for fly-fishing success based on his fifty-plus years of experience chasing trout, bass, and many other species with a fly.